CFP: Comics in 21st-Century American Life
For our next issue, The New Americanist is seeking submissions which consider the cultural and political conditions through which comics play a part in contemporary American life. From offering social commentary on issues like race, gender, sexuality, and disability, to being adapted into commercially massive film and television franchises that have come to dominate box offices and streaming platforms, to offering readers multiple ways of belonging through live action role playing, cosplay, and the convention circuit as a whole, comics – broadly considered to include graphic novels, cartoons, and digital comics – are a vital feature of popular American culture.
We are looking for submissions which approach comics studies from innovative cultural or political studies approaches, and we will show strong preference for topics which consider disability, LGBTQ+, or race/ethnicity studies frameworks. Potential topics might include, but are not limited to:
* Comics in/and contemporary American political life
* Comics and racial representation
* Comics and gendered representation
* Disability in comics (particularly superhero comics)
* Comics and sexuality
* BIPOC comics creators and the cultural and political significance of their work
* Comics and young adult audiences
* Multimedia comics franchises
* Fan cultures and participatory fandoms in the contemporary US
* Translated comics in American markets
Please submit a 300-word proposal with a short bio to newamericanistjournal@gmail.com no later than 14 February 2022. If accepted, papers of 6-8000 words including footnotes should be submitted by 16 May 2022 for peer review.
About Time: Temporality in American Art and Visual Culture"
About Time: Temporality in American Art and Visual Culture"
Université de Paris, November 4-5, 2021
From Afro-futurism to memorials and monuments, from dystopian prophecies to the celebration of an eternal return of American "greatness," American culture is and has always been deeply engaged with the notion of time. This symposium will consider time as it relates specifically to the visual arts of the United States, from the 17th to the 21st century. In doing so, it will unveil time as a fundamental dimension to American culture, despite a long tradition emphasizing the centrality of space.
Over the past decades, a number of historical studies have demonstrated that time is not a straightforward or neutral framework. From discussing the emergence of standardized, rationalized time as concomitant with the rise of industrialization, to analysing the temporalities of colonialism, these studies have shown that the concept of time is historically determined and that it constantly evolves under the pressures of technological, social, and economic factors. Yet in the field of art history, and especially U.S. art history, studies devoted to time as it relates to the visual arts remain comparatively limited in scope and number. This symposium will address this absence by taking a long view at the development of the concept of time in American art and visual culture.
We invite contributions from scholars whose research focuses on the variety of strategies, devices, and formulations that artists used for the concept of time in their work. The symposium will investigate the historical dimensions of such issues as the temporalities of art making and art perception; the idea of the image as a way of arresting time or, on the contrary, time as an integral dimension of the artwork; notions of memory and anticipation; art as a bridge between the past and the future; the circulation and evolving reception of artworks over time; archives and historiographies; the development of timelines of art history or, on the contrary, the concept of art's ahistoricity. Such comprehensive consideration of the notion of time seems to have particular urgency today, at a moment of intense reckoning with the enduring legacies of the past and the arresting inability to imagine the future, threatened by the climate crisis and the global pandemic.
Please send a proposal (500 words maximum) and a short CV to: about.time.symposium@gmail.com by June 30, 2021.
CFP About Time_ Temporality in American art and Visual Culture_Haberle.
Selected contributors will be notified by July 25, 2021
Organized by Hélène Valance, associate professor of American studies at Université de Bourgogne Franche-Comté and CNRS research fellow at LARCA, Université de Paris, and  Tatsiana Zhurauliova, associate researcher at LARCA, Université de Paris.
Feminisms in American Studies in/and Crisis: Where Do We Go From Here?
CFP: Fourth Biennial European Association for American Studies (EAAS) Women's Network Symposium, in collaboration with the Polish Association for American Studies (PAAS)
 Feminisms in American Studies in/and Crisis: Where Do We Go From Here?
University of Warsaw, Poland: 30 April 2021
or online: 16 April 2021
Understanding feminist scholarship as a form of critical practice necessitates the continuous crit­ical self-scrutiny of one's field, one's archive, one's canon, and one's own situatedness and posi­tionality. The question of who speaks, and who speaks for whom, in feminist scholarship requires thorough inquiry because un/marked universalisms have always been written into Western dis­courses of identity, agency, and, not least of all, woman*hood.
We, the Steering Committee of the EAAS Women's Network, would like to take our 2021 confer­ence as an opportunity to take stock of feminist scholarship in (European) American studies, and we invite contributions (research papers, position papers, meditations, and musings) that reflect on, interrogate, and rethink cultural production, philosophy, and lived experiences with respect to conceptions of feminism as a critical practice of scholarship from intersectional perspectives.
Although feminism has been conceived most broadly as an heiress to the women's liberation and suffrage movements, its liberatory practices have, time and again, unveiled that other forms of oppression and inequality cannot be remedied by or subsumed under the feminist project. For instance, in regard to the ongoing climate crisis and the latest health crisis caused by the COVID-19 pandemic, the particular inequalities and vulnerabilities of women* and trans* and non-binary people have especially come to the fore. The formation of nationalist, (alt)right, racist, and xeno­phobic 'feminisms' have been gaining popular and populist support in Europe and the United States, deploying racist and racializing tropes firmly rooted in anti-Black and anti-Muslim racism; and the backlash against gender studies is often based on simplistic (mis)understandings of and hostility towards deconstructivist and queer approaches.
In response to these challenges and crises, this conference is interested in (revisionist) readings of U.S.-American feminist history, interrogations of past and current feminist theories and prac­tices, grievances of and towards (particular) feminist positions, national and global challenges to feminist activism, and utopian visions. We invite contributions on all forms of cultural production, the production of knowledge, activism in the academy, critical pedagogy, the history of science, and the history of ideas, including but not limited to the following:
●     feminist and intersectional perspectives on
○     forced migration
○     healthcare and the global care chain
○     climate justice
○     the (neoliberal) academy
●     feminism and political movements: suffrage and abolition, feminism and the civil rights movement, women's rights and the (alt)right, women's marches, the Pussyhat Project, Black Lives Matter
●     feminist and intersectional pedagogies and methodologies in American studies class­rooms
●     feminist and intersectional activism in/and research
●     intersectionality and critiques of power: feminisms, post-colonial and de-colonial studies, critical posthumanism, etc.
●     feminist "declarations of whiteness" (Ahmed) and critical whiteness studies; (critiques of) white fragility (DiAngelo); liberal feminism and white allyship in academia and beyond
●     intersectional perspectives on sex and gender in the sciences and medicine
●     intersection of race, sex, gender, sexuality, and dis/ability in positions of power and politics
Please submit your proposals (300–400 word abstract) and a short bio note (up to 150 words) to: eaaswomensnetwork@gmail.com
Deadline for proposal submission: December 15, 2020. Acceptance notes will go out in late January 2021.
In order to encourage the participation of as many speakers and audience members as possible, this symposium will not have a registration fee.
Presenters will be encouraged to submit full-text articles (5,000-8,000 words) to the double-blind review process of  our e-journal, WiN: The EAAS Women's Network Journal (http://women.eaas.eu/win-journal/).
 A note on logistics: due to the unstable situation re. COVID-19, we will have to remain flexible in regards to the format of the conference. We are planning to convene in Warsaw on April 30, 2021 (one day before the EAAS conference), but we may have to hold our symposium online (possibly on April 16, 2021). Please indicate in your proposal whether you can imagine traveling in the spring; we want to consider speakers' needs and preferences during the planning phase. We will keep confirmed speakers updated.
More information will be posted on our website as it becomes available: http://www.women.eaas.eu
The EAAS Women's Network Steering Committee:
Ingrid Gessner (Austria)
Johanna Heil (Germany)
Izabella Kimak (Poland)
Elisabetta Marino (Italy)
Master of Arts in American Studies (MAS) program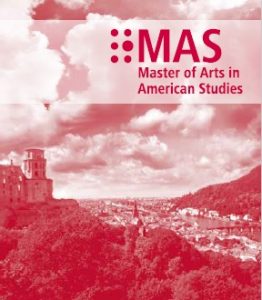 The Heidelberg Center for American Studies (HCA) invites applications for its newly designed four-semester Master of Arts in American Studies (MAS) program.
The MAS is an interdisciplinary program taught in English and aimed at qualified graduate students from Germany and around the world. It provides students with in-depth knowledge about the United States of America from an outside perspective.
The curriculum includes classes in human geography, history, literary and cultural studies, political science, economics and religious history. The unique design of the MAS gives students ample opportunity to choose an individual configuration for their course of study, including multiple combinations of disciplines. Individual study plans may concentrate on disciplines from the humanities or the social sciences, or combine both. MAS students benefit from both excellent academic teaching by internationally renowned scholars and an interdisciplinary approach that meets the needs of professional and academic careers.
The program is tuition free for EU-citizens. For non-EU students, the state of Baden-Württemberg charges a fee of 1,500 Euro per semester.
We would like to ask you for your support in making the MAS program known to students in your department who might be interested in the program. We would be very grateful if you could forward the attached poster and flyer to your colleges within the related fields and to students who might be interested in the program and/or display them in a prominent location in your department or institute.
International applications for the winter semester 2020 will be accepted from May 1 to June 15, 2020.
Further information on the HCA and its MAS program, as well as application forms, are available at in a flyer, or on the web
www.hca.uni-heidelberg.de or www.mas.uni-hd.de
2020 Ruhr PhD Forum in American Studies
Friday, 31 January and Saturday, 01 February 2020 at Ruhr-University Bochum and TU Dortmund University
Invitation and Call for Papers
The doctoral colloquium Ruhr PhD Forum in American Studies offers PhD candidates in American Studies from the University Alliance Ruhr (UAR) a forum to present their dissertation projects as work in progress. The UAR consists of the Ruhr-University Bochum, TU Dortmund University, and the University of Duisburg-Essen.
We welcome contributions focusing on the study of American history, culture, media, and literature. Presentations will be discussed by peers, American Studies professors of the three universities, and further senior scholars with a comprehensive perspective on American Studies. Commentators will provide advice and ideas on contents, theoretical foundations, as well as methodology.
If you are interested in participating, please submit your proposal to ruhrphd@gmail.com by 30 November 2019 including
• title of your presentation
• abstract (max. 300 words)
• a short biographical note (max. 5 sentences)
• technical requirements (notebook, projector, loudspeakers, Internet connection, etc.).
Presentations should not exceed 15–20 minutes and will be followed by a discussion.
The final program for the 2020 Ruhr PhD Forum in American Studies as well as further information on the conference will be posted at the RuhrCenter of American Studies website http://www.amstudies- ruhr.de
Organizing Committee:
Rafael Alves Azevedo (Duisburg-Essen) Anna Bongers (Bochum) Sandra Danneil (Dortmund) Elisabeth Haefs (Duisburg-Essen) Zohra Hassan-Pieper (Duisburg-Essen) Chris Katzenberg (Bochum) Hannes Koberg (Bochum) Laura Kost (Dortmund) Johannes Maria Krickl (Bochum) Hanna Rodewald (Dortmund)
We look forward to welcoming you to the 2020 Ruhr PhD Forum in American Studies!
Call For Submissions to a Special Issue of The Emily Dickinson Journal
International Dickinson: Scholarship in English Translation
Because English is the dominant language in Dickinson studies, the flow of ideas tends to move in one direction, even while excellent scholarship is published in other languages. WIth the goal of promoting scholarly dialogue across languages and cultures, we invite submissions for a special issue of The Emily Dickinson Journal devoted to translations into English of recent critical work on the poet published in other languages. As Domhnall Mitchell and others have noted, interest in Dickinson's writing continues to grow in Europe, Asia, Latin America, and other parts of the world: currently there are major translation projects underway in places like Japan, Taiwan, China, and Brazil. Global interest in Dickinson's work, however, has surpassed global scholarly communication networks, which tend to be restricted by national and linguistic boundaries.
Seeking to represent a nationally diverse range of critical perspectives on Dickinson's work, the editors invite scholars to submit abstracts in English of no more than 500 words of published, peer-reviewed essays and book chapters published in other languages in the last five years. We will then review the abstracts and extend invitations to scholars to translate their work into English in full or in part for publication in the fall 2020 issue of The Emily Dickinson Journal. To maximize the diversity of the scholarly work presented in the issue, a second section will feature abstract-length presentations of books, chapters and articles. We therefore also invite scholars interested in this section to send 500-word summaries of recent publications or work in progress in the last five years, to be published in abstract form. For a third section, we seek abstracts (250-300 words) of PhD dissertations on Dickinson defended in the last five years or still in progress. It is our hope that this issue will bring new perspectives to an international readership. The issue offers a unique opportunity for international scholars to make their work more widely available, and for English-speaking scholars to enrich their critical perspectives on Dickinson. Please submit abstracts to all 3 editors of this issue, Adeline Chevrier-Bosseau (achevrier.bosseau@gmail.com), Li-hsin Hsu (hsulihsin@yahoo.com) and Eliza Richards (ecr@email.unc.edu). Provide the bibliographical information for the original publication or contextual information for the work in progress, along with a short cv. Deadline for submission: January 15, 2020.
Heidelberg Center for American Studies 17th Spring Academy Conference: www.hca.uni-heidelberg.de
The seventeenth HCA Spring Academy on American Culture, Economics, Geography, History, Literature, Politics, and Religion will be held from March 23-27, 2020. The Heidelberg Center for American Studies (HCA) invites applications for this annual one-week conference that provides twenty international Ph.D. students with the opportunity to present and discuss their Ph.D. projects.

The HCA Spring Academy will also offer participants the chance to work closely with experts in their respective fields of study. For this purpose, workshops held by visiting scholars will take place during this week.

We encourage applications that range broadly across the arts, humanities, and social sciences and pursue an interdisciplinary approach. Papers can be presented on any subject relating to the study of the United States of America. Possible topics include American identity, issues of ethnicity, gender, transatlantic relations, U.S. domestic and foreign policy, economics, as well as various aspects of American history, literature, religion, geography, law, musicology, and culture.

Participants are requested to prepare a 20-minute presentation of their research project, which will be followed by a 40-minute discussion. Proposals should include a preliminary title and run to no more than 300 words. These will be arranged into ten panel groups.

In addition to cross-disciplinary and international discussions during the panel sessions, the Spring Academy aims at creating a pleasant collegial atmosphere for further scholarly exchange and contact.

Accommodation will be provided by the Heidelberg Center for American Studies.

Thanks to a small travel fund, the Spring Academy is able to subsidize travel expenses for participants registered and residing in developing and soft-currency countries. Scholarship applicants will need to document the necessity for financial aid and explain how they plan to cover any potentially remaining expenses. In addition, a letter of recommendation from their doctoral advisor is required.

DEADLINE FOR APPLICATIONS:                                                November 15, 2019

SELECTIONS WILL BE MADE BY:                                                January 2020

PLEASE USE OUR ONLINE APPLICATION SYSTEM:             www.hca-springacademy.de

MORE INFORMATION:                                                                   www.hca.uni-heidelberg.de

FOR FURTHER QUESTIONS:                                                        ibahmann@hca.uni-heidelberg.de
The CFP for the BAAS 2020 conference at the University of Liverpool is now open. Full details here: https://www.baas.ac.uk/project/2020-baas-annual-conference%e2%80%a8/
The 65th BAAS Annual Conference
16–18 April 2020, University of Liverpool Keynote Speakers:

Heather Ann Thompson: Professor, University of Michigan and Pulitzer Prize-winning author of Blood in the Water

Hanif Abdurraqib: Poet, essayist and author of They Can't Kill Us Until They Kill Us, Go Ahead in the Rain and A Fortune for Your Disaster

Fionnghuala Sweeney: Senior Lecturer in American literature, University of Newcastle and author of Frederick Douglass and the Atlantic World
Terra Foundation for American Art Academic Awards
Apply now for Terra Foundation for American Art Academic Awards, Fellowships and Grants

.
APPLICATION DEADLINE: JANUARY 15, 2018
RESEARCH AND TEACHING
These grants enable scholars outside the United States to consult resources and visit collections within the United States. The foundation accepts proposals from doctoral students and postdoctoral and senior scholars working on American art and visual culture prior to 1980. More
These grants offer US-based scholars working on American art and visual culture prior to 1980 the opportunity to conduct research abroad. Grant funding is available for doctoral students, and postdoctoral and senior scholars, whose projects require the study of materials outside the United States. More
The Terra Summer Residency brings together doctoral scholars of American Art and emerging artists worldwide for a nine-week residential program in the historic village of Giverny, France. The program encourages independent work while providing seminars and mentoring by senior scholars and artists to foster reflection and debate. More
Three eight-month visiting professorships will aim at fostering the cross-cultural, trans-disciplinary scholarly engagement with North American Art at the John F. Kennedy Institute for North American Studies, Freie Universität Berlin and the art history departments of Freie Universität and Humboldt Universität, respectively. Visiting professors will offer two specialized seminars per semester in American Art History (B.A. and M.A. levels) and participate in the larger academic community of the Kennedy Institute for the duration of their stay. More
A new postdoctoral teaching fellowship program, hosted jointly by the Université Paris Nanterre and the Université Paris-Diderot, will begin in fall 2018. Fellows will be nominated for a two-year period (2018–20 and 2020–22) and will instruct American art history and visual culture to graduate students in art history and American cultural history in combination with personal research. More
PUBLICATIONS
Terra Foundation for American Art Digital Publication Initiatives are innovative projects that promote the use and application of computational technology and data in the study of the visual arts of the United States and the dissemination of the resulting research. More
The editors of the online journal Nineteenth-Century Art Worldwide are currently accepting proposals for articles addressing art and visual culture of the Americas in the long nineteenth century, from the American Revolution to World War I as part of the series "American Art History Digitally". More
FOR MORE INFORMATION ABOUT DEADLINES, ELIGIBILITY, AND APPLICATION INFORMATION, PLEASE VISIT:
________________________________________
TERRA FOUNDATION FOR AMERICAN ART
120 East Erie Street, Chicago, IL 60611 USA   +1 312 664 3939
121 rue de Lille, 75007 Paris, France   +33 1 43 20 67 01